My Local club in Colorado Springs. I have been a Member since the summer of 2005 and I routinely show up for meetings and to operate trains.
Majority of my fleet is based out of the club, with only a handful of engines and rolling stock being assigned at home compared to the club. 
The layout is located in the Colorado Springs city auditorium and occupies the old Colorado Springs City Police firing range.
This page just consists of some of my video and photos from the club
Click on Photos to Enlarge them.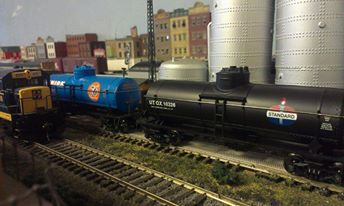 Oil being unloaded to fuel diesels at the Sousa City engine facility.
Tankers being interchanged on the narrow gauge.
Fictional Santa Fe SD9 with a bay window caboose in tow.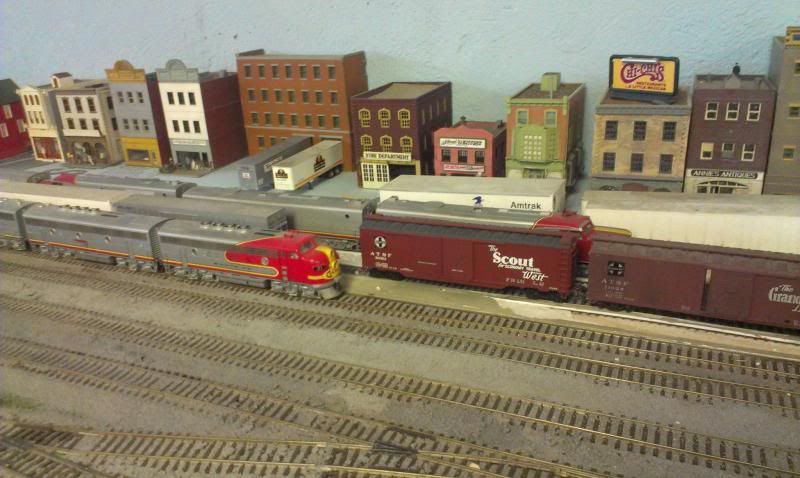 Sousa City passenger terminal before the installation of the express tracks. Lotsa Santa Fe here!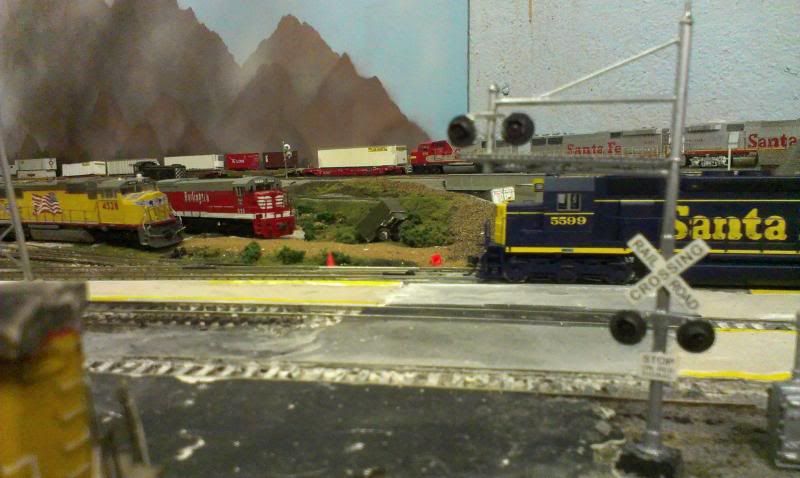 SD45 crossing the road at Hruman Junction.
Narrow Gauge Trestles.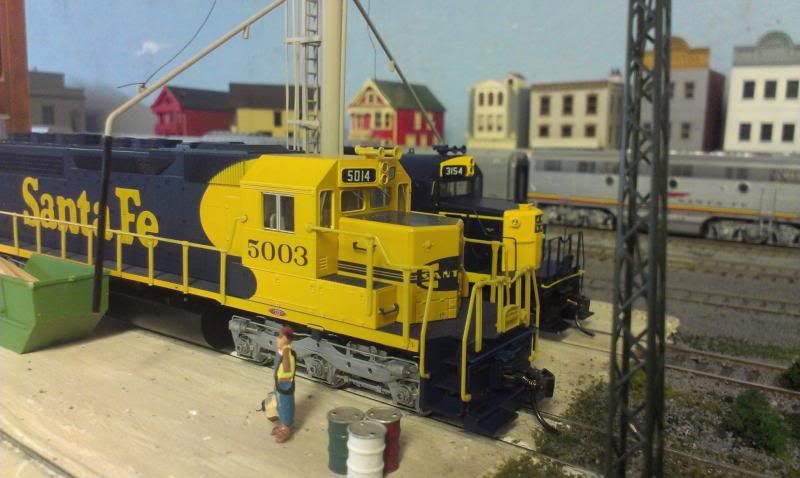 Motive power at the Sousa City engine facility.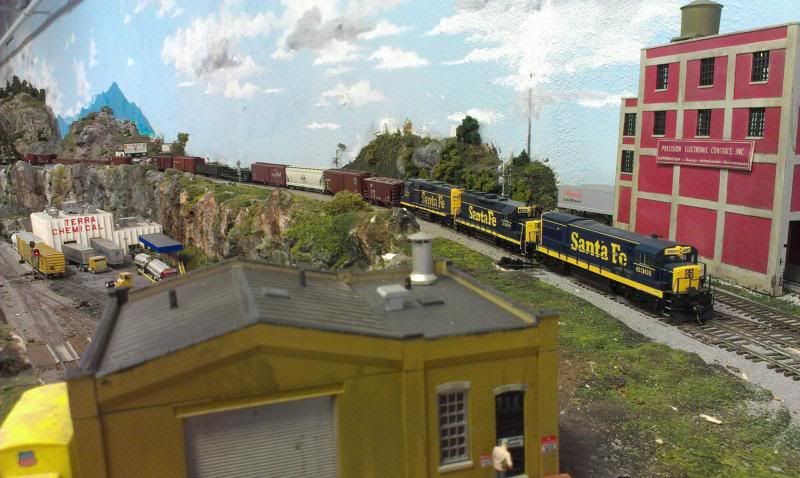 Rolling past precision electronics.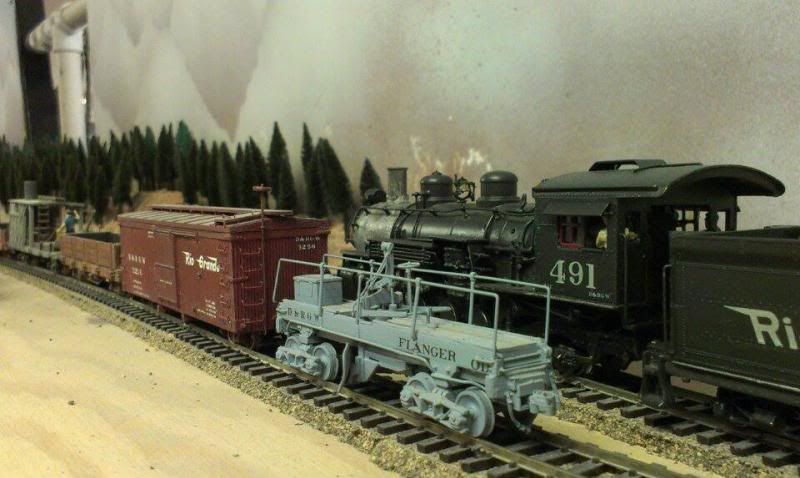 K-37 #491 ready to roll out.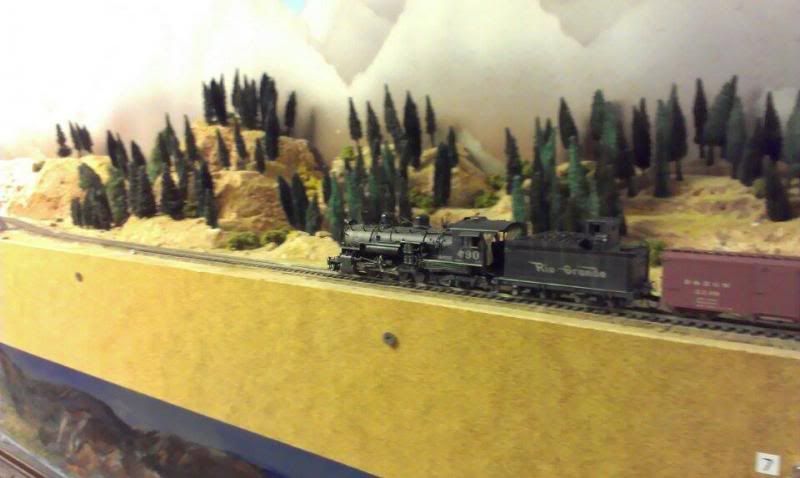 And 490 cruises by a little later. 
Geep rolling over a scratchbuilt trestle.
Action at the narrow gauge station.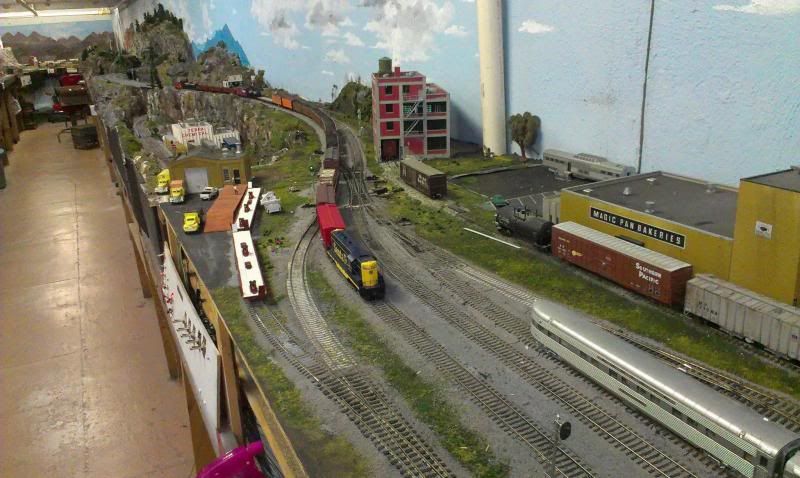 GP7 leading a local into Sousa City.
RSD switching the grain elevator at Hruman Junction.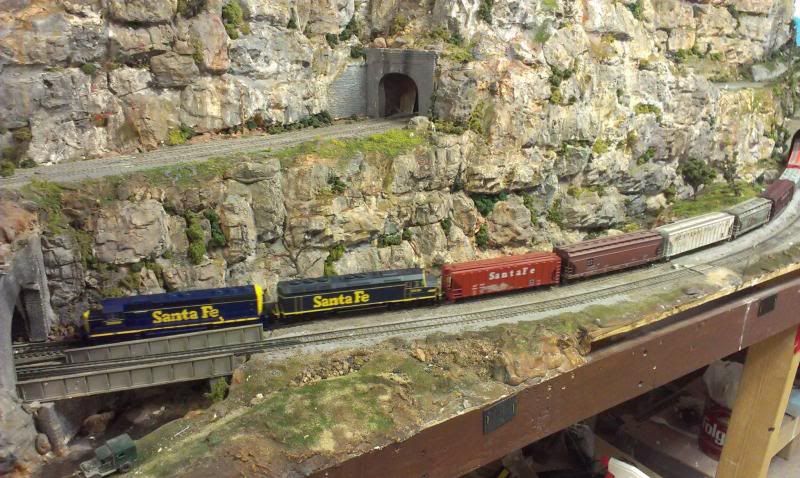 Grain train through the canyon.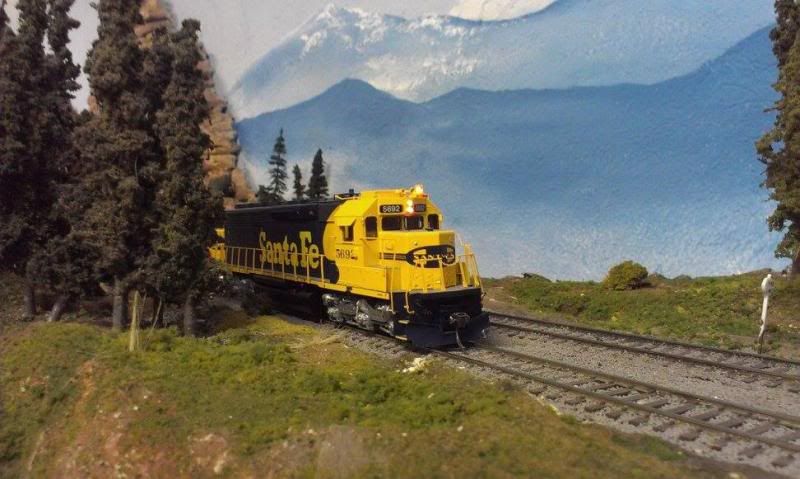 SD45-2 climbing the hill.
D&RGW L-131 #3608 takes a quick break at the town of Barclay after climbing the grade up through Thomson Canyon.
Also in Barclay, Amtrak's Southwest Chief prepares to depart heading west. The MOW crew has just finished some work on the turnout and has set their handcar aside. 
Also in Barclay, a GE 44 tonner, and a Burlington U33C idle awaiting Service. In the Background, the Super Chief is Prepping to depart Heading east.
On the narrow gauge portion of the layout, Goose #5 is waiting for passengers and cargo.
DRGW C-25 #375 leads a narrow gauge stock train out of a snowshed.
UP SD40-2 #3457 preps to depart Taylor yard with a grain train, while in the background, a U50 and SD90MAC are busy idling away. 
A UP RS-27 and 2 GP9B's descend the grade on the horseshoe curve.
A slightly out of gauge ON30 C-16 on DCC
Motive power at Sousa City
Santa Fe F3's on the combined Super Chief/El Capitan.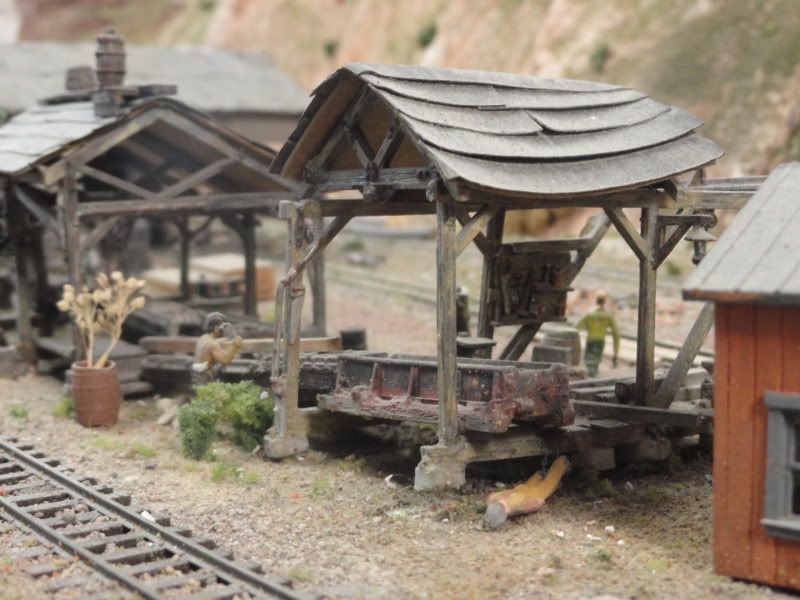 Logging on the narrow gauge
More logging.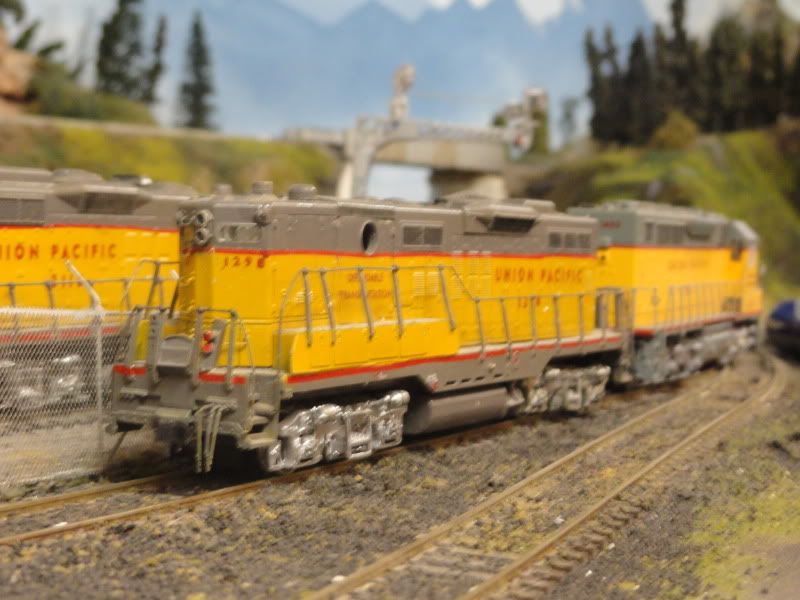 GP9B at Hruban Jct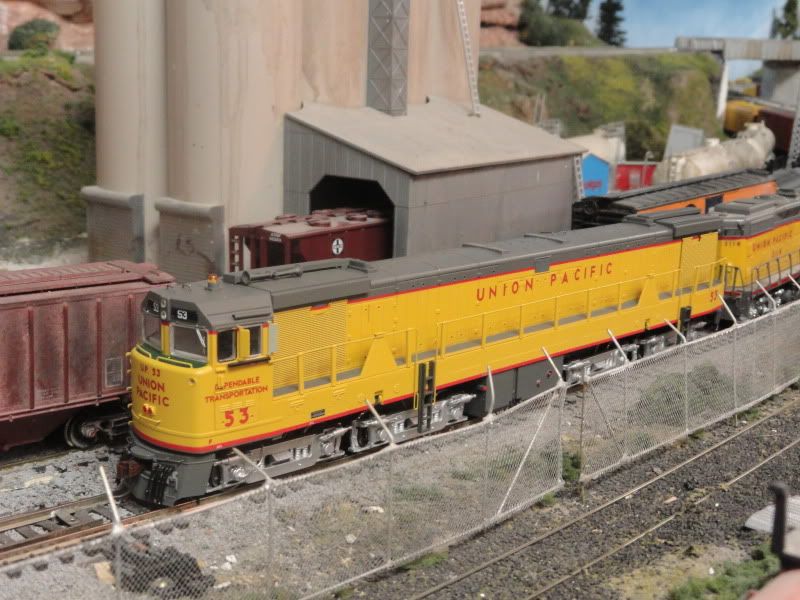 U50 at Hruban JCT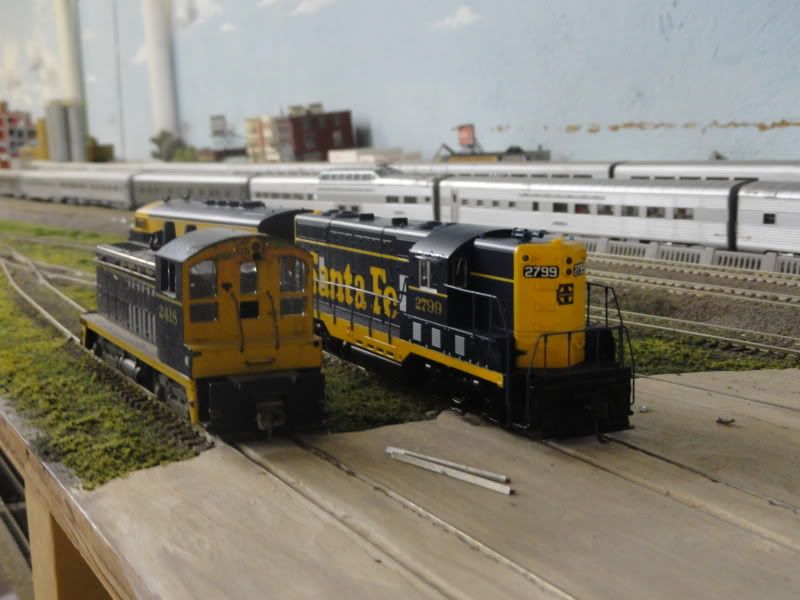 Motive power at the Sousa city Engine Facility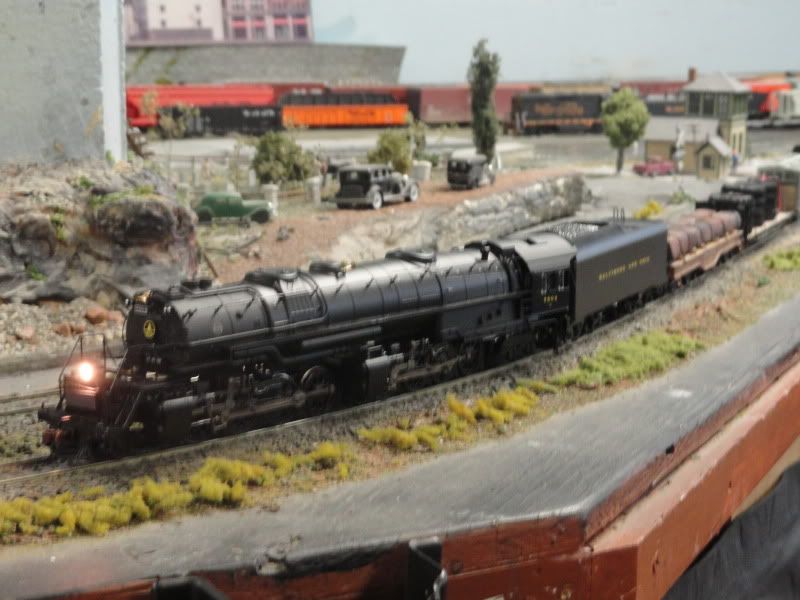 B&O EM-1 on the DCC side.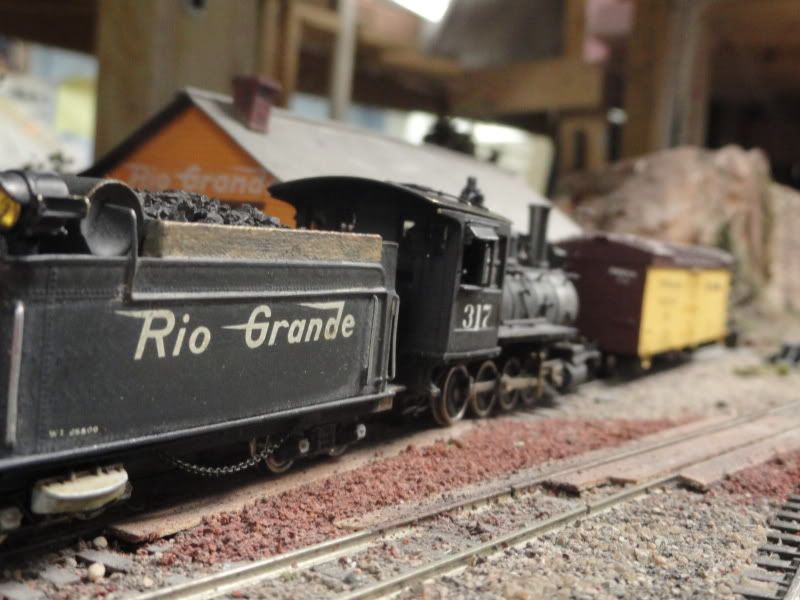 DRGW 317 picking up a reefer.
A Narrow gauge engine peaking its head out of the shed.